KYOCERA Communication Systems Acquires Labellio, an Image Recognition Web service Powered by Deep Learning, from AlpacaDB.
With simple drag-and-drop, users can easily create their original image classifier powered by deep learning
Kyocera Communication Systems announced today that the company has made an agreement with AlpacaDB to acquire Labellio, an image recognition web service powered by deep learning. Change in ownership will take place on January 19th, 2016.
Labellio is a web service that let users create their own image classifier without any knowledge of image recognition. The only thing the user needs to do is to upload their images and label them. Labellio will do the rest and create the image classifier.
Please check out this video to see how you can create your own image classifier:
https://youtu.be/HOtKJ2NcsMo
The image classifier created by Labellio can be downloaded to be integrated into user's apps or products. For example, in many factories products are checked by person to see if the product is good or defective. By using Labellio, it will be possible to create a system that will automatically determine good products from defected ones, without any expert knowledge of image recognition.
Since Labellio was launched on June 2015, it has gained many users worldwide and has contributed to the spread of image recognition by deep learning. By acquiring the image recognition technology developed by one of the most advanced companies in the field, Kyocera Communication Systems aims to enhance its AI technology. Furthermore, through business alliance with AI technology related startups and universities, the company plans further enhance its AI platform.
KYOCERA Communication Systems shows how to create your own image classifier with Labellio with simple drag-and-drop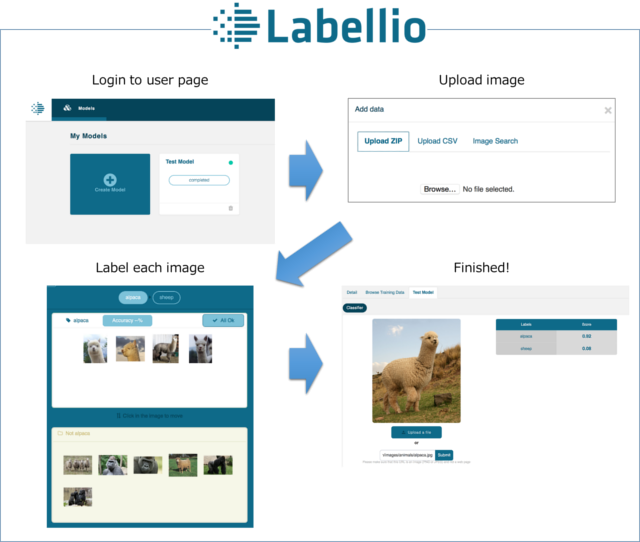 About KYOCERA Communication Systems Co., Ltd.
Kyocera Communication Systems Co., Ltd. is a systems integration company headquartered in Kyoto and owned by Kyocera Corporation (NYSE:KYO)(TOKYO:6971) . The company operates in the following four business domains: ICT (Information and Communication Technology), Telecommunications Engineering, Environment and Energy Engineering, and Management Consulting.
Website: https://www.kccs.co.jp/en/
About AlpacaDB, Inc.
Alpaca is a San Mateo based Deep-Learning startup that develops technology to accurately automate financial professional's decision-making process. By using its Deep-Learning technology, Alpaca launches Capitalico, which enables anyone to build fully automated trading strategies without any programming.
Website: https://www.alpaca.ai/
掲載されている情報は、発表日現在の情報です。最新の情報と異なる場合がありますのでご了承ください。